Sustainable proposition development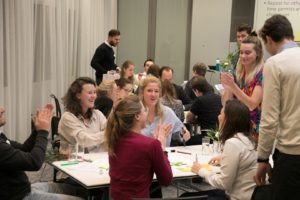 How can SeDGe help with the development of a sustainable proposition?
Design principles as systems thinking, design thinking and lean are used so you, yourself can work on the development of the sustainable proposition yourself together with your team. I will facilitate all steps to take as a team from idea generation, to testing your proposition and measuring the impact you are about to make.
It is also possible to facilitate just a part of the full design process.
Inspiratie & activatie voor jou en je bedrijf
Heb jij al langer het gevoel dat je iets met duurzaamheid wilt doen binnen je organisatie, maar weet je niet hoe? Of zijn er al diverse duurzame initiatieven gestart, maar wil je het meer gestructureerd gaan aanpakken? Of wil jij als professional een sustainability leader worden? 
Waar je als organisatie of professional ook staat, ik help je graag om aan de slag te gaan met duurzaamheid. Met inspirerende sessies word je geactiveerd om stappen te zetten.aan de slag gaat én op gestructureerde wijze kunt doorpakken om tot meetbaar resultaat te komen.
Samen met Jacklien Quirijnen van Oaq heb ik het label SOW ontwikkeld waarin wij onze krachten hebben gebundeld en onze werkmethodiek hebben opgebouwd met verschillende building blocks (beschikbaar in NL en ENG). In een vrijblijvend adviesgesprek brengen we in kaart waar jouw organisatie staat, welke volgende stap passend is en welke dienst daarop aansluit.
Wil jij als organisatie duurzaam & toekomstbestendig worden? Bekijk here (in Dutch) hoe we je kunnen helpen. 
Partners en projecten, wie gingen je voor?